High Pressure Washing
Hammond Manufacturing hygienic enclosures feature IP69/IP69K protection with stainless steel corrosion resistance that allows for effective high pressure washing, again and again.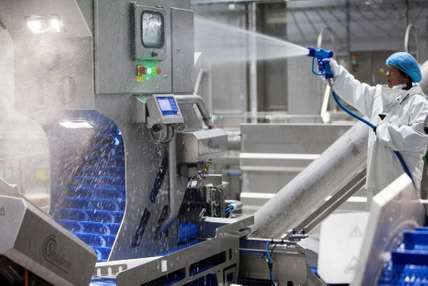 No Safe Harbor for Bacteria
The extra smooth #4 Dairy-Finish sloped surfaces drain away water quickly and effectively. The removable, blue silicone gaskets, are easy to clean and /or replace, while making it easier to spot contaminants.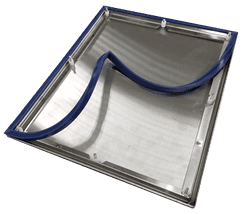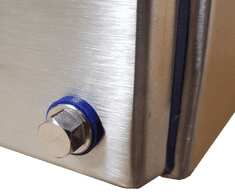 Crevice-free hex head bolts with silicone washer & silicone gasket beyond door edges.
Silicone gasket can be removed for cleaning or replacement.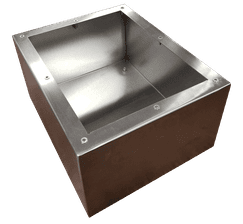 Closed end, threaded nut.
Panel mounting provision
Hygienic Enclosures - Our Product range:
18 Sizes, up to 48 x 36 x 16 inches
5 Sizes, up to 16 x 13 x 8 inches
Offered with both 22.5 and 30.5 mm holes
# Holes -1, 2, 3, 4 Vertical, 4 (2 x 2), 6 (2 x 3)

Require hygienic pushbuttons
Cleaning Issues with Standard Designs
Standard hygienic enclosures have design elements that are problematic. Hammond Manufacturing has corrected these issues by reducing crevices and unnecessary surfaces to eliminate safe spaces for bacteria to grow.

Piano Hinge Knuckles and Welded Flanges
Clamp Brackets & Screws Mounting Foot Joints.
Philips Head Grooves.
Quarter Turn Slot and Edges Between Body and Lid
Modifications
Modifications that maintain approvals are possible within the size range envelope.
Holes and cutouts can be pre-cut.




Additional internal mounting studs and stand-offs can be added.



Of course, to maintain hygienic standards, any openings put into an enclosure should be filled with hygienic suitable components.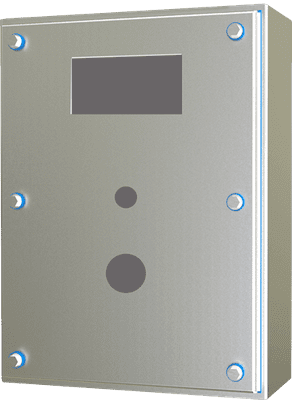 Summary
Hygienic enclosures provide food and beverage facilities increased food safety alternatives.

The Hygienic Series of products from Hammond are supported by our Service Excellence platform –inventory support and on-time deliveries.


View Junction Boxes
View Wallmount Enclosures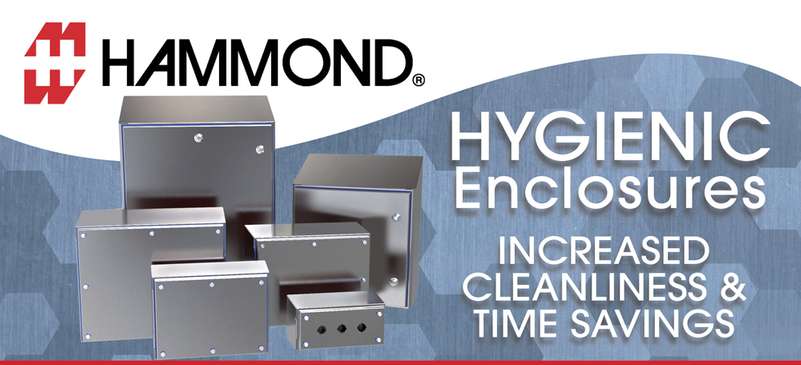 Why Hygienic Enclosures?
High Pressure Washing demands look for IP69/IP69K prote

c

tion


Water

and aggressive cleaning agents need Type 4X stainless steel corrosion resistance

Easy to Clean
No safe harbor for bacteria – easily accessible by washer
Sloped surfaces – drain away water
Extra smooth #4 Dairy Finish
Removable gasket – clean/replace
Blue gasket – easier to spot contaminants
View Push-Button Enclosures