Sidebar
​ What Are Some Compatible BFT Automation Technologies?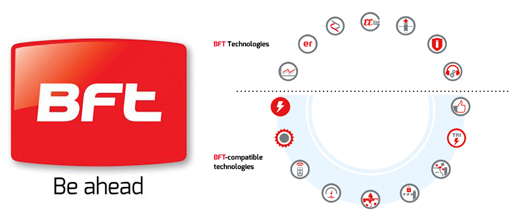 BFT Automation specializes in offering innovative access automation and gate operators for residential and commercial sectors. The company has gained a lot of popularity due to the technology and innovation it brings in its automation solutions. BFT offers cutting edge and truly unique solutions. Its high level products are preferred by clients with the most stringent requirements and its exclusive technologies set it apart in the market. BFT focuses on continuous progress, that's why the company is able to provide some of the best automation solutions in the market.
Following are some compatible BFT Automation technologies:
24V
24V is reliable, safe, and precise BFT Automation technology that has been designed to ensure finest performance with an accurate adjustment of slowdown when the gate opens or closes. This compatible technology also improves safety by making sure that the gate is immediately stopped and reversed in case there are any obstacles in the opening/closing path.
Ecosol
BFT has developed Ecosol technology in order to tackle energy issues. It is a system that uses solar energy and allows for low-voltage installations. Not only is this technology eco-friendly, it is also a practical solution for gates and doors that are difficult to reach via mains power supply. This technology is fully compatible with all old and new 24V systems and can be installed regardless of what situation these systems may be in.
Rolling Code
Rolling Code is an exclusive BFT technology that has been designed to ensure safe transmission. BFT Automation transmitters take advantage of this technology to manage the commands in a completely safe and secure environment in order to avoid any kind of external violation. Secure transmission is achieved by sending different codes from transmitter to control unit differently each time. It is also accepted only once. The code cannot be reproduced thanks to the algorithm that is generated during the transmission.
Inverter
Inverter is an electronic device capable of controlling the rotation speed of the motor at any moment. Because of it, installation of the motor is safe and reliable. Furthermore, Inverter subjects the mechanical parts of the motor to less stress and by doing so it increases the life of the motor. Automation opening and closing times can also be managed via this system.
Oil Gear
Oil Gear is a reduction unit that is in an oil bath. Wide variety of BFT Automation barriers use this device because it makes them virtually maintenance-free and increase their durability. Furthermore, it also ensures the irreversibility of movement as well as extreme quietness.
Block
Block is a crank handle system which is used in a specific range of BFT Automation barriers along with irreversibility of the reduction unit. The primary purpose of Block is to prevent unauthorized gate opening by providing anti-vandal protection.
Encoder
Encoder is a contactless high-resolution device that is highly conductive and detects obstacles. It improves smoothness of gate opener movement as well as rapid reversing of motion during slowdown and acceleration.
TRI
TRI is a three-phase induction motor that works with a wide variety of BFT Automation barriers. It offers extreme quietness and reliability as well as make them maintenance-free. It does not produce sparks, making it suitable to be used in hazardous areas.